Discover more from The Cricket Podcast
This is the place for The Cricket Podcast's written content. You'll find posts on topics we've mentioned on the podcasts, and bits we couldn't fit on the show.
London Spirit - The Bad Team Done Good
Jack Hope writes about a bad team with a good shot at glory in The Hundred
Yesterday I attended Lord's, along with Max and Ross, for another contest in The Hundred. It was a slightly disappointing game, as a confused Manchester Originals collapsed to London Spirit. However, we still got a lot out of it. Ross asked Phil Salt a question about him running out Dre Russ, we got to meet Matt Roller before he comes on our podcast tomorrow, and we had the chance to sample all three flavours of water in the Lord's press box (raspberry was best). 
As usual we'll talk about the game in more detail on the show, but, thematically speaking, London Spirit's season looks like it could turn into an interesting one. With two wins from two, last season's worst team are sitting pretty at the top of the table and now have a really strong chance of making the play-offs. Prior to the tournament I wasn't too enthusiastic about them and, after seeing them twice, I am still not convinced they are particularly good. 
Support The Show!
Just to flag, that you can support The Cricket Podcast by signing up on Patreon! For just £4/$5 you get: exclusive shows, special Q&As, access to our private Discord and more. You can also find us on Twitter here (@JackHope0) and here (@TheCricketPod).
PLUS we can sort you out with the best of men's below the waist grooming at MANSCAPED.com. Use the code: CRICKETPOD for 20% off plus free shipping.
This is also why I think they are interesting, as they highlight one of the quirks of the tournament as a whole. From a sporting perspective, 8 games is not really enough to determine who the best teams in the group stage are. This allows a potential mid-weight, or even a bad team, a realistic shot at glory.
We can use a really simple model to illustrate this. First we are going to make assumptions: the best team in a short format tournament has a 60% chance of winning any given match, the average team a 50% chance, and the worst a 40% chance. From there we can work out the probability of the three teams winning X number of games. We can then put that together in a chart, with three bell curves, to show the difference between the three teams. 
Taking 5 wins as the cutoff to make the play-offs (based on the 2021 tournament) that gives the good team a 59.4% chance, the average a 36.3% chance and the bad a 17.4% chance. Clearly it pays to be the best team, but over 8 games even a genuinely bad side has more than a puncher's chance of making it to the play-offs. 
If the tournament were extended to 14 games, matching the IPL, we see a fairly drastic change in the odds of each side making the play-offs. Looking at the last 4 seasons the IPL had 8 teams, 9 wins basically guarantees you top 3. From the model above, that would mean the play-off chances for each team would be: good team a 48.5% chance, average team a 21.5% chance and bad team a 5.8% chance.
Each team sees a fall in their play-off hopes, but proportionally speaking this hits hardest for the average team and the bad team. Meaning that in a longer tournament we're less likely to see a poor team stinking out the later stages.  It's also worth flagging here that this is a very simple model mocked up during a lunch break, please treat it as instructional rather than gospel. Clearly, in real life, no team is going into every match with exactly a 60% chance of winning.
I am also aware, of course, that there are a whole bunch of reasons why a 14 game season for The Hundred wouldn't work at this point. In future, however, I'd broadly be in favour of some kind of extension. Perhaps 14 games wouldn't work, but, if people are still interested in a couple of years' time, adding an extra home game for each side would be a good step. 
To bring this back to London Spirit, they're set up very nicely, with an excellent opportunity to make the play-offs. Sticking with the theme above though, even if we think they are a bad team (and this initial call may have been wrong), given a 40% chance of winning each of their final 6 matches they would still have a 45% likelihood of making it to 5 wins overall!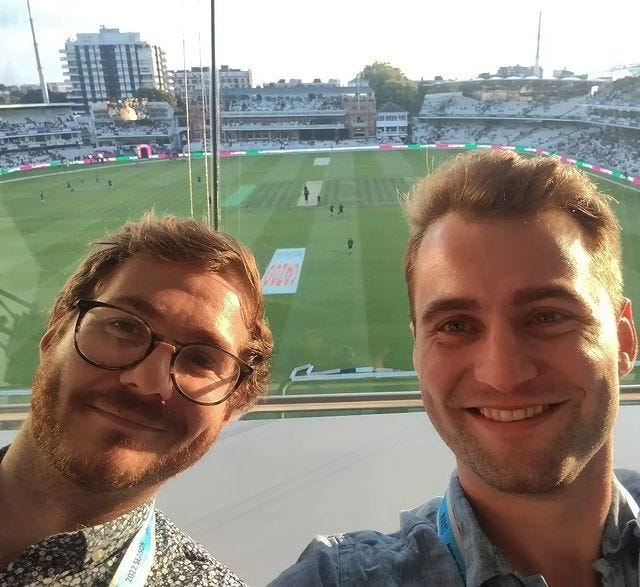 Madchester
I don't want to miss the opportunity to pile in on Manchester Originals too. Last night they were basically a case study in how not to organise yourselves in short form cricket. After making a selection of poor bowling changes, leaving themselves hideously exposed to the short boundary, they proceeded to totally screw up their batting order. 
It shouldn't be news to anybody who has been following cricket in the last decade that if you have Andre Russell in your team, and you need more than 10 an over, you should send in Andre Russell - see the table below, sorted by strike rate for every batter to face 200 balls in T20s in the last 3 years. 
The memo hadn't made it through to the Original's brain trust though, who opted to use other players until the rate had reached 15rpo. To compound this error they also left Tristan Stubbs in the dugout until the game was practically dead. These are decisions which probably cost them 10-20% equity in the game. In an 8 match tournament you can't allow that to happen.